99% of us are basically kind but we are often tired and frantically busy. An act of intentional kindness falls to the bottom of our long to do lists without us realising it.
It promotes Acts of Kindness that are deliberate, frequent and a part of our every day lives. One way they do this is by offering cards, like the one below, free of charge to be given out by you as a gentle reminder to be kind. I'm not the kind of person who goes around handing out stuff like this, it feels a "bit holier than though". I do slip them into library books, and leave them on buses and park benches and seats in the coffee shop.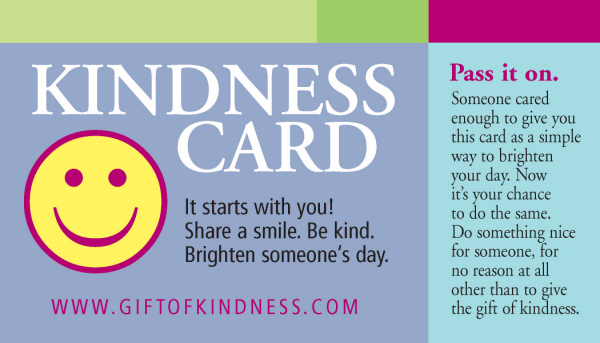 They will send you cards with eleven suggestions on the back but I prefer to download the image and put my own suggestions on the back. Such as:
Smile More.
Be Kind To Yourself
Encourage someone with a compliment.
Spend Time With Someone Who Loves You
Mail a "real" letter to someone
Mow a neighbour's lawn
Take the idea, make it your own and have fun.